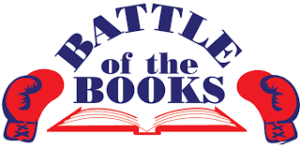 Battle of the Books, America's #1, nationwide, reading incentive program, will soon launch at Monte Vista Elementary for the 2023/24 school year. The Battle Dates will take place are TBA. The purpose of Battle of the Books (BOB) is simply to encourage students to read good books and have fun while competing with peers.  Your children may be coming home with new books, book lists, story maps and excitement about battles in March.  Here is a short explanation of Battle of the Books for Monte Vista parents so you can share in your children's reading and battling excitement.
Who Participates:  All 3-6 graders are invited to participate and are assigned to a BOB team.
Teams:  Each student will be put on a BOB team, which consists of 4-5 students in their class.  Each team has a diversity of reading levels between students.
Book Lists:  There is a 20 book list for 3rd-4th graders and a 20 book list for 5th-6th graders.  These book lists are generated each year by the Battle of the Books organization and contain a mix of classics and new literature.  Each student will be given a laminated book mark listing the 20 books for their grade.   The list below contains books from 2023-24 book list. 
3rd and 4th Grades

The One and Only Ivan

by Katherine Applegate

Lincoln and Kennedy: A Pair to Compare

by Gene Barretta

Freckle Juice

by Judy Blume

Bobbie the Wonder Dog: a true story

by Tricia Brown

Tornado
by Betsy Byars

The Chocolate Touch

by Patrick Skene Catline

Muggie Maggie

by Beverly Cleary

Frindle
by Andrew Clements

The Lemonade War

by Jacqueline Davies

Because of Winn-Dixie

by Kate DiCamillo

Phineas L. MacGuire…Erupts!: The First Experiment

by Frances Dowell

Boxes for Katje

by Candace Flemming

The Infamous Ratsos

by Kara LeReau

Nim's Island
by Wendy Orr

Clementine
by Sara Pennypacker

Knights of the Kitchen Table

by Jon Scieszka

I Survived The Great Molasses Flood, 1919

by Lauren Tarshish

Boxcar Children
by Gertrude Warner

Charlotte's Web

by E.B. White

You Never Heard of Sandy Koufax?!

by Jonah Winter
5th and 6th Grades

The White Mountains (Tripods Series #1)

by John Christopher

Ice Magic

by Matt Christopher

Who Was Neil Armstrong?

by Roberta Edwards

My Side of the Mountain

by Jean Craighead George

Escape from Mr. Lemoncello's Library

by Chris Grabenstein

Unusual Chickens for the Exceptional Poultry Farmer

by Kelly Jones

Masterminds

by Gordon Korman

Ella Enchanted

by Gail Carson Levine

The Princess Academy

by Shannon Hale

Number the Stars

by Lois Lowry

The Mad Wolf's Daughter

by Diane Magras

Candy Shop War

by Brandon Mull

Wonder

by R.J. Palacio

Hatchet

by Gary Paulsen

Scared Stiff

by Willo Davis Roberts

Esperanza Rising

by Pam Munoz Ryan

Holes

by Louis Sachar

Brothers at Bat: The True Story of an Amazing All-Brother Baseball Team

by Audrey Vernick

Love, Ruby Lavender

by Deborah Wiles

The Castle in the Attic

by Elizabeth Winthrop
Get a Printable version HERE
Book Assignment:  This year we have decided to let the students PICK their books  instead of having the teachers assign them!  Students are encouraged to read as many books as they are able.  The more books team members read, the stronger the team will be during the battles in March.
Reading:  BOB books may be read individually by the student, by a parent as a read-a-loud, or listened to as an audio book.  Once your child completes the book, they will fill out a story map and receive reading incentive prizes (raffle ticket for a weekly prize mobile drawing, book buttons, prize from the BOB prize alley).
Battle Week:  The 2023/24 March Madness battle week is TBA.  With the help of parent volunteers and teachers, 3rd and 4th grade teams will battle Monday and Tuesday mornings.   5th and 6th grade teams will battle Wednesday and Thursday mornings.  Based on points earned, the top two teams from each group will advance to the final battle on Friday, which will take place during a BOB school assembly.
Battles:  Each battle consists of two teams and a judge who will ask 20 questions about any of the 20 books on the BOB book list.  The team must answer with both book title and author to get full points for the question.  Partial points are given for a correct title but an incorrect author (or visa versa).
Sportsmanship:  In addition to motivating reading and a love for books, BOB teaches sportsmanship.  Losing is hard. Every battle will result in a winner and loser.  Participation in Battle of the Books gives the students opportunities to develop stronger sportsmanship skills.
Grand Prize:  60 students will be given the opportunity to attend an in-school field trip on TBA to Obstacle Warrior Kids in Sandy.  These 60 students will include students who: advanced to the final battle (4 teams), read all 20 books, or showed good sportsmanship and/or leadership.
We are excited to have Battle of the Books at Monte Vista for many years to come. This reading program has the ability to increase the reading skills and love of books of our children.  Any questions you may have regarding Battle of the Books may be directed to Jenn Goff at nenner22@gmail.com . You can also find more information about Battle of the Books at their website:  battleofthebooks.org